I first came across Rob Cottingham late one Friday afternoon a couple of months ago whilst looking for something off-topic to kick-start the weekend and was fascinated to find an artist talking in detail about his art (in this case, creating a lightbox from his Mac to trace up a cartoon).
Exploring further, I realized Rob's witty penmanship is widely traveled, having appeared in such illustrious places as the Huffington Post and ReadWriteWeb, among others. More than just dissecting the relationship between our online and offline lives, Rob revels in placing social media tools and the social phenomena that surround them in unfamiliar situations. Like blogging on the battlefield. Hidden in these absurdist vignettes are nuggets of truth about ourselves and the way we now live:
(click on the image if you can't read the punchline)
So, I decided to reach out to Rob across the Twitterverse and wonder of wonders, the affable artist agreed to answer my questions:
CagedEther: Why cartoons? When did you start drawing cartoons and where has your work appeared?
Rob: I've actually been cartooning since middle school, but after university it dwindled. For a while when I was working on Parliament Hill, I included cartoons in the material I produced in my communications work. But after that, there just didn't seem to be a venue for it.
Then I started blogging, and after that launched our company, Social Signal. And a little into our second year of operation, I started to draw again – sometimes as a way of taking notes during meetings, but often drawing cartoons about them.
Finally, it dawned on me that I could start posting these. Alex, my wife and Social Signal co-founder, encouraged me to start cartoon-blogging on our company web site. And that's how Noise to Signal began.
Since then, the cartoons have been blogged on every continent except Antarctica. And they've appeared on sites like ReadWriteWeb (where I do a weekly cartoon), the Huffington Post, Treehugger, PC World, CBC.ca, the Consumer Reports web site and SeattlePI.com.
CagedEther: Where do you get your inspiration from?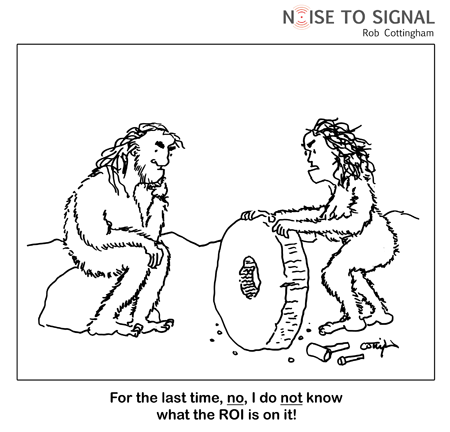 Rob: Well, I spend so much of my day immersed in the social media world that it's no surprise that's my biggest source of ideas. Sometimes it's the latest announcement or news, other times a trend I notice, and sometimes someone tweets something that starts the wheels turning. Alex will often suggest something, too, and you'll see her credited for more than a few cartoons.
There's also my background in communications and our own experience running a business. And some of the most resonant cartoons, for me anyway, come from parenting. A lot of the cartoons involve overlaying two of those worlds: parenting meets social media, for instance.
Then again, sometimes something just sticks in my head – wordplay especially. I'm watching The Sound of Music, hear "How do you solve a problem like Maria?" and think, "Okay… how would you solve that problem permanently?" And the result is a kind-of-gruesome cartoon.
One last thing, at the risk of being a little self-help-y: I'll get inspiration from things I notice about my own behavior, especially online, that strike me as funny – things I'd probably like to change. You know, the way we sometimes waste time, or obsess over minor slights or meaningless metrics, or get swamped with email.
CagedEther: Is there anything you wouldn't cover/parody?
Rob: Well, there's the potential conflict involved in commenting on areas where my company has a client. So I try to steer clear of those or disclose my interests – mainly because I want to be fair to my readers as well as the client. So far, that hasn't come up very often.
But I don't touch racist, sexist or homophobic jokes. I don't go in for shock humor, and I try not to belittle people – especially people who are suffering or especially vulnerable.
CagedEther: Any favorite subjects you constantly revisit?
Rob: I'm constantly surprised at how many of my cartoons have time-honored human traditions and the latest tech or business trends bumping up against each other. A mobster is getting whacked, and his killer tells him it's just an iron-clad NDA. Maybe two people are making out on the sofa; how would augmented reality work with that?
And for someone who's never really done the bar/pickup scene, I go to that well a whole lot in my cartoons.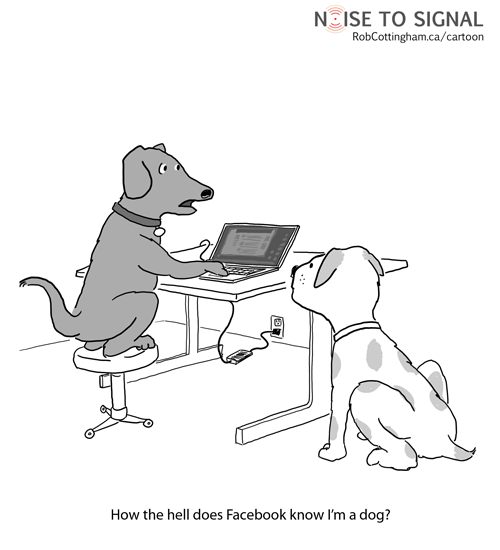 CagedEther: Is being a cartoonist your main source of income? Do you have a day job?
Rob: Social Signal still accounts for the great majority of my professional life. Cartooning is starting to make a real contribution, though – reprints in books like Sociable!, for instance; I'm also selling cartoon prints, and I have a Zazzle store with mugs, cards and T-shirts.
And I've also launched a new service, cartoon-blogging for conferences and events – which really excites me, partly because it's fun, partly because it's unique and partly because I think it could make a big difference for conference organizers and participants alike. I love the thought of pioneering a whole new way of engaging with audiences.
CagedEther: You often send up bizarre uses of artifacts of the online world (eg. a Twitter handle) in the offline world. Do you personally have any issues keeping up with all the new and emerging technologies?
Rob: Me and the other six billion people on the planet! The truth is, you can't do it. (My wife and Social Signal partner, Alexandra Samuel, had a great blog post about that on the Harvard Business Review site.) And once you stop trying to keep up with the digital Joneses, you're a lot further ahead – because you're free to focus your attention on the technologies that really make a difference to you, and to what you're trying to accomplish in the world.
That said, I try to at least understand the big trends. And I'd be irresponsible if I didn't keep tabs on the flavor of the month (if only to to be able to knowledgeably warn a client off). For instance, YouTube – I'm predicting it's going to be huge.
CagedEther: What's the most important channel for you to get your work out? Your blog? Facebook? Twitter?
Rob: The glib answer is "yes". 🙂
The real answer is that each channel does its own job. My blog is a hub, tying it all together and providing a repository for everything I create. Facebook lets me create a community of users, and I get some really valuable feedback from people there. Twitter, though, is huge: I get a lot of response there, I have some great conversations, and I can tell very quickly which cartoons are striking a nerve.
The big surprise for me this year has been YouTube. I've branched out there, posting high-speed videos of my cartooning (there's a virtue of working digitally – I can easily do screencasts as I draw), and a few seasonal cartoon collections for New Year's and Valentine's Day. The response is terrific.
CagedEther: Any tips for anyone out there wanting to use social media to promote their work?
Rob: The key is to see social media as something more than an advertising or broadcast tool, which is where I see a lot of people stumble. It's a place where you build relationships and have conversations. And to the extent that your work can actually fuel those conversations – the way a cartoon can work well with a blog post, for example – you can have a big impact.
And be generous with your appreciation. You know, the word "fan" has taken on some unfortunate lord-and-serf overtones, but really, a fan is someone who follows what you're doing because they really like your work. And in the social era, they're absolutely critical. Let them know how much their encouragement and enthusiasm means to you.
One last thing – the work and the relationships come first. The "promotion" is secondary. Keep that in mind, and it's hard to go too far wrong.
ENDS
I added most of the links into this interview: Rob was far too modest to do so himself. I also amended to American English ('humour' to 'humor') – an odd task for an Englishman, but all in the interests of blog consistency. As Rob mentioned, to find out more, visit Robcottingham.ca which links all his many presences across the web.